30/04/2022
Hannah's Epic Challenge experience
Hannah decided to join our first ever Epic Challenge in April! Our voyage would be over 500 miles of potentially difficult sailing from Portsmouth to Belfast on board a Challenger 72 ocean racing boat!
"I have always been one to opt for a scenic route with my many trips and falls, and certainly with the journey to discovering myself, my abilities and my limitations due to MS. Balance and coordination has always been my main 'MS Culprit', which has affected my mobility. So, when the Portsmouth-Belfast sail through Oceans Of Hope was presented to me, I couldn't think of a better back drop for me to realise my full potential living with MS.
My sailing challenge to Belfast has bought nothing but determination and resilience that I didn't know I had, to face my MS. There is always a way, and between the 11 of us with MS on board, we sure as hell found it! Working together. Friendships for life were formed. I have returned with the reassurance that when faced with the challenges that my MS may bring, I can now say 'I found a way when I went sailing'. Thank you, Oceans of Hope."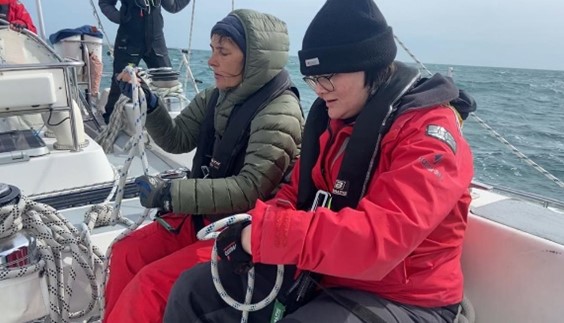 As someone relatively new to sailing, we were amazed at Hannah's gusto and enthusiasm as the days went on. Her positive energy had a palpable effect on me and the whole team. Congratulations Hannah and we look forward to seeing you progress your journey with sailing and to conquering your MS.