26/07/2020
Let's Get Sailing Again!
We are sure that you, like us, are really keen to get back out on the water. This year has been really tough on a lot of people and organisations. It has been tough on us too. We do remain positive and are always looking forward. The Oceans of Hope UK team have been busy rescheduling this year's events and organising further events that can be safely hosted during the Covid-19 world in which we live.
Our first event will be in April 5th-9th on board Steinlager 2 in Auckland. This classic, world-beating racing yacht will host 22 magnificent sailors with MS.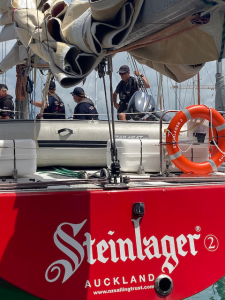 It's a great opportunity to learn new skills and meet others with MS. It's a great opportunity to challenge yourself and contribute to the onboard community. Our previous sailors have felt a real sense of achievement and a sense too that they are no longer fighting MS on their own.
So if you fancy a challenge, then why not sign up? Have a read of our event information sheet here (pdf) and send us an email to apply: [email protected]
Due to current Covid-19 restrictions this event is only open to people who live in New Zealand at the moment. We are getting huge support from the NZ MS community along with our friends at MSNZ too. So if you know anyone that you think might benefit from this challenge then please encourage them to apply!
To our friends who live in Australia: we remain hopeful that your travel bubble between Australia and New Zealand will be open again soon and with this in mind, we have considered the fairest way of managing your expectations. If you are from Australia, please apply! We will keep your details on record and when we get a confident all clear that the travel bubble will remain open, we will try our best to accommodate as many of you as possible. We do understand that this is not the most satisfactory solution, but it's our only option at the moment.
So it's great to be back and organising sailing events for you. We cannot wait to get out on the water again. Please share this with as many people as you can.
We are on social media too, please follow us and share our great news!
Facebook: oceansofhopechallenge
Instagram: oceansofhopechallenge
Twitter:@OOHChallenge