21/04/2021
MS and us – reclaiming our lives
Well it's now 2021 and we've all had a year of isolation and shielding. Our friends in New Zealand, led by Ingrid Robertson and Gail Leonard, have gotten 2021 started in great style with our Challenge event at Easter in Auckland.
During 2020, when all our sailing plans were being cancelled, Ingrid was planning and organising a group of 23 Kiwis to set sail on board the world beating Steinlager 2. With the help of New Zealand MS Society we filled the boat with a crew of MS participants. All Covid 19 safe, we were ready to discover and explore the North island.
Our trip started from the NZSTbase in Auckland with blue skies and light winds. This gave everyone the opportunity to get to know each other and to get into the swing of life on board.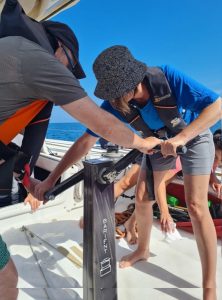 23 people with MS on board one boat!
What binds us together?
It's difficult to pin down. Only one thing is for sure, we all strive to see past our limitations. To be brave and try and step out of our daily constraints and jump into life knowing full well that we may not succeed.
This is the beauty of life for us all I suppose, but for us with MS, we feel that life's possibilities are somewhat hampered by this stupid disease.
As part of this magnificent team on board, some of these possibilities become visible to us and when we work together, they become achievable.
When we see these possibilities, we feel a sense of purpose and new goals appear before us. Before we know it, we have put aside our limiting factors and are actively pursuing possibilities that we would never dare try if we were at home.
It's difficult to explain.
Is this courage?
We don't think so.
But together we have a common strength. Together we are a team and together we achieve new possibilities.
We put aside MS for a while and we own our lives again on board.
Our next challenge is April 26th-29th, based out of Portsmouth, UK.
To follow our story please like and follow us on Facebookand Instagram @oceansofhopechallenge
…and Twitter @OOHChallenge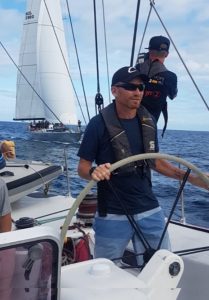 Written by Ingrid Robertson