13/01/2020
Our second visit to New Zealand proves magical
In early December 2019 we were joined by 37 adventurers mainly from New Zealand and Australia for what was billed as our toughest Challenge event to date.
In 2018, the year before, we were aboard the iconic Spirit of New Zealand and in 2019 we were privileged to be on two world-beating racing yachts. Steinlager 2 and Lion New Zealand were our home for the week. These two vessels are legends in the sailing world winning the Fastnet race, Sydney-Hobart and Whitbread round the world race.
So for a band of happy Ms'ers it felt quite an honour!
Personally speaking, from the moment I saw the two boats in Auckland, I knew that we had to have them. And now, nearly 14 months later… we achieved it. The whole event was led by Ingrid Robertson who is based in Christchurch and was supported by The New Zealand Sailing Trust and MSNZ. Without Ingrid's patience, enthusiasm and tenacity we would never have completed this Challenge.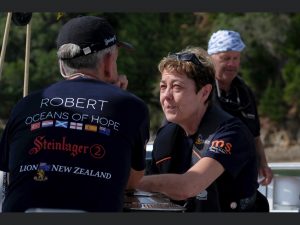 Our first challenge was to get 38 people together in Auckland at 09:00 hrs on Monday 2nd December for a five day voyage. Once farewells with family were done and everyone was on board our sailors became part of the crew. I think that this is a really important part of a Challenge event. Individual participants might not know anyone else aboard. However, everyone immediately becomes part of a team. To a certain extent, they get buddied up, briefed on safety and given roles on board.
I appreciate how daunting this is, but it immediately gives everyone a purpose and a commitment to contribute to their own success and more importantly, the commitment to help others achieve success too. MS is a stupid disease that strips you of your identity and leads to a certain amount of isolation. Within minutes of being on board, people are starting to feel they have a genuine role as well as a sense of real community.
It is magnificent to watch people get over nerves and fears and quickly pick up on their own potential again.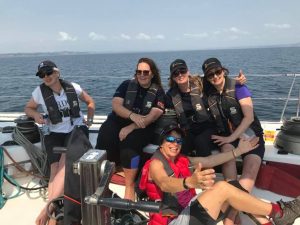 From the outset on these thoroughbred racing yachts our aim was to push ourselves both physically and mentally. Our accommodation and facilities were basic and food preparation and cleaning of the boat was down to us.
Due to some testing wind conditions on the first day unfortunately all of the sails couldn't be put up. However, some great speeds were achieved and everyone showed gusto in doing their bit. Our first day turned out to be our most testing weather-wise, so our skippers decided we should end up sheltered in the shadow of a beautiful island called Motutapu.
From a participants perspective, the first day is always is always a transitional day. Leaving loved ones, getting to know new people, finding your bunk and then finding out how to get into it! Then maybe swapping bunks with someone who can climb into yours instead, finding the loos, and getting a grip on cooking. For some, our first day is an introduction to sailing too. With all of this to cope with and embrace, our first evening is a mixture of chatting about hopes and fears or simply collapsing, totally exhausted from an action packed day.
Day two started with a new routine; a sunrise swim! Then our first breakfast on board, ample amounts of coffee and tea to have whilst chatting with new friendly faces, then get going!
We picked up our anchor at 10am and set about a day of tacking and skills training in light winds and blue skies. Both boats kept within eyesight which lead to informal competition and banter.
During the day it's my role to answer questions, liaise with the crew, make sure everyone has a chance to "have a go", ensure everyone is happy and coping. We have issues that may need ironing out and most importantly, to hear people's stories as well as their hope, fears, anxieties and ambitions. It's also my job to help them get around their obstacles and to create opportunities to try and achieve their goals. During this second day (and everyday too) it is a great honour to be a part of this process.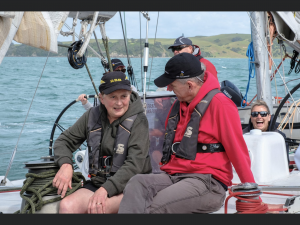 As the week went on, we sailed up to Great Barrier island where we went ashore for an evening social with the other boat. Our supper was on land, cooked on a BBQ and eaten around a massive campfire. This was a great opportunity to hear more sailing stories and conquests. The following morning we swapped boats for a morning coffee and to go see how the other half lived. Some of the the crews also had the opportunity to be hoisted up the mast too. After our "social", we got to sail across the bay to the island of Kawau in a bay that was the original home of the 1st governor of New Zealand.
Each day confidence and strength grows. People new to sailing are comfortable and are happy having a steer, whilst others with more experience are keen to learn more.
Sunscreen well and truly on, we had an idyllic "broad reach" whilst enjoying the building winds and show-stopping dance routine performed by Lion New Zealand.
Our last night is always special. Camaraderie is building, self worth is blooming and disability is left ashore. People look back on how they were before and how they are now. People look forward to going home. Some are nervous and some are concerned about how their partner is going to cope with this new lease of life. Some are concerned about how they can keep this "new me" going.
However, the most important thing is that participants don't feel as alone as they once did. They feel they are better placed to cope and feel supported by a new family of friends.
They feel that HOPE is still there.
Job well done I suppose.
Our last day was spent coming home and tacking in the bay above Auckland. Our two classic yachts are both considered A-list celebrities in Auckland. Everyone that we pass or that passes us wave and take photos. They cheer and shout and generally think that we are awesome for being on these two legendary boats.
What's brilliant is that they don't know the abilities of everyone on board… they don't know about the journey we've taken to get here… they don't know of how difficult it is for a lot of us to move around… and they don't know about our fears.
All they see is magnificence.
Which is ok by me.
As told by Robert Munns