31/05/2019
Reflecting on a memorable challenge in Croatia
A few week have passed since our first challenge of the year finished. After all the excitement we caught up with Robert Munns to take stock on a busy two weeks sailing.
This year our Croatia challenge took part on five yachts and started and finished in two different locations, Split and Dubrovnik, giving the skippers and crew a mission to get from A to B. We had a great group of participants this year, from eight countries, many of whom from the Netherlands after hearing about us from MenSen magazine. The first week saw changeable and tricky weather conditions and all the crew had to pace themselves, set suitable watches and all look out for one another.
"The challenge this year really pushed us as a group as there was a deadline for the journey", Robert explained. "We had to have a different mentality this year in order to complete the mission. The crew had to work together and assign watch patterns so that while one person was steering the others were either navigating, working the ropes, cooking or resting."
"We saw a wonderful mix of people go sailing with us, many of whom were new to boats, how they moved on the water and the cramped living conditions! It was especially warming to meet those who were new to MS and had not met many other sufferers before."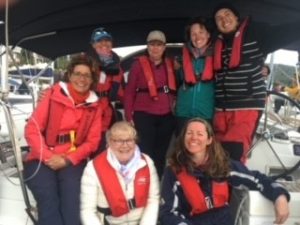 We will be encouraging participants from this year to give feedback on their time with us as their responses are used to make our events even better in the future, but already, Robert has seen what a positive difference these events can have.
"I had people coming up to me saying that 'This week has shown me that I have MS but MS doesn't have me'. You always see a lot of nerves, a lot of anxiety and a lot of people trying. One participant who was new to the disease said the week gave them hope as they realised their condition was not that bad. But then it also gave them hope listening to people who have lived with the disease for longer because it gave reassurance and showed them that their future wasn't so unclear or fuzzy. We can get hope from all different aspects and this is why it's called Oceans of Hope."
"We can even give hope to people with bad conditions, showing them that you can still control this beast, whether it's pulling on a rope or steering the wheel. Those memories – whether they last five minutes, five days, five weeks or five years, it doesn't matter – they've seen it, they've experienced it and they've achieved so many things. A lot of people say 'I've achieved something which I didn't think was possible' or 'I did what my fears told me was not possible".
Coming up next for OOH is our Scotland challenge, taking place for a week in mid-June with Captain William on board Lady of Avenel, and in September and October, we'll be returning to an almost fully-booked two weeks in Turkey. "What I learnt in Croatia will be implemented there, across many fronts, such as giving the crew more chances to contribute, to push themselves and to rest. We'll be setting up closed Facebook groups to provide information in the run-up to the event, such as what the boats look like inside, what clothing we recommend taking, and introducing you to all our captains."
If you think you would like to take part in any of our upcoming events, please email [email protected]