20/04/2022
Our first epic challenge
This year we have decided to give opportunities to people for more of a challenge and have decided to call them 'Epic Challenges'.
This year's first Epic Challenge was in conjunction with Tall Ships Youth Trust based out of Portsmouth. Our sailing boat this particular time was Challenger 4 which is a 72 foot round the world racing boat. These boats are very similar to our mothership Oceans of Hope. For those of us who have had the opportunity to sail on Oceans of Hope it was a great pleasure to get back on board a similar vessel.
With a professional crew of 5 to help us along our journey, 13 MS participants arrived on Saturday 9th April with great excitement and trepidation. We had a visit from BBC Radio Solent as well as ITV Meridian!
Not only did we have participants from the UK but we also had participants from Ireland, the Netherlands and Italy so once again a truly international event.
On arrival our magnificent sailors were allocated bunks, given safety briefings and introduced to the boat.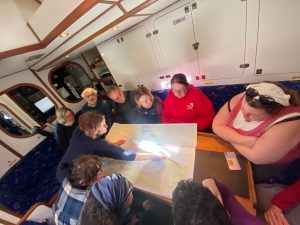 Once everybody was settled, unpacked and briefed we let slip from Gunwharf Quays for an afternoon's familiarisation sail across to Cowes on the Isle of Wight. This was a great opportunity for us to discover how to work together as a team and to make the boat sail efficiently.
Our first night on board gave us a chance to familiarise ourselves with life on board including cooking together and sleeping in berths that are designed for racing around the world. (Some might say that the beds were very uncomfortable😁)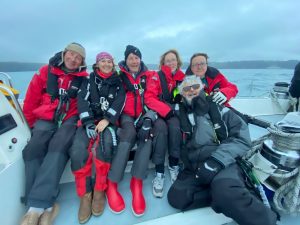 Our second day was an early start and we headed west to 'properly' start on a nearly 600 mile journey towards Belfast. Winds were good and from the south and we planned our route for a first stop at Weymouth. This also provided an opportunity to have a proper shower and also get some fish and chips!
Day three was a longer sail involving our first overnight passage through to Plymouth. We arrived on a grey murky morning after some rain and some close encounters with fishermen and Navy vessels through the night. This gave us plenty of opportunities to learn about navigation. The important part of night sailing is that we get to experience something that most of us hadn't experienced before – the magic of being at sea under the stars. This gives people opportunities to sail together and exchange stories and experiences of their own individual MS journeys. Sailing at night is truly magical.
We had a day off in Plymouth where people had the opportunity to either rest or do a little bit of tourism. The following day was the start of the long long passage to Belfast. We set off early the next morning with very little sail up and the motor on. All the crew were briefed on the weather and the conditions and it looked like the Plymouth to Belfast leg would be done in one 50 hour hit.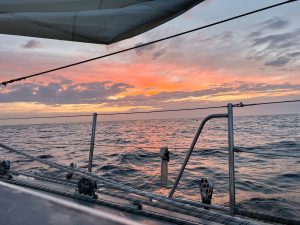 For this passage we were split into watch teams where each watch had four people plus one watch leader. We operated under three hours on and six hours off. This gave us plenty of opportunity to rest while we weren't either sailing, cleaning or cooking.
Even though we weren't under full sail the event was still very challenging with plenty to do on board whilst underway. Participants had the opportunity to take part in many forms of navigation practice as well as chart work. Everyone had responsibilities towards their crewmates in keeping morale up and to look after each other. During these times you really do appreciate humour and a supportive friend to help you through.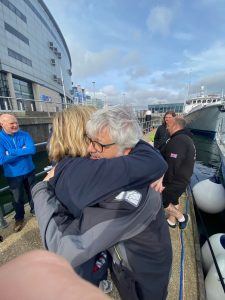 Upon arrival in Belfast we had celebratory cakes, biscuits and lots of hugs. It is really important to say that everybody that came with us went through a journey not only with their MS but with their relationship to other people and to the water.
The most important thing is that we had no injuries!
The whole team of magnificent sailors did themselves all so very proud and I for one am very proud and thankful that I got the opportunity to be part of such a great trip. The professional crew led by Captain Sue supported us every single step of the way making us feel safe and were invaluable to the ships journey.
Robert